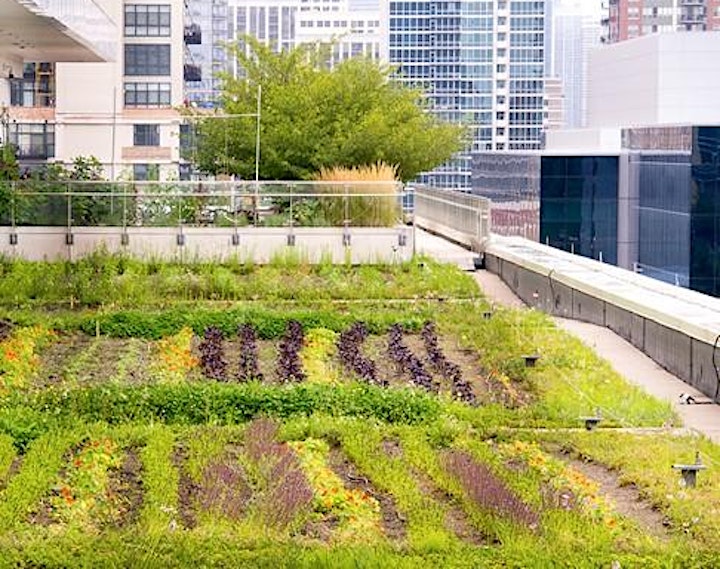 Urban Agriculture: From Rooftop to Tabletop
Ely Chapter will have it's August monthly program in-person at the rooftop garden of Chicago's McCormick Place.
Urban agriculture ranges from balcony or small backyard gardens to larger community gardens in vacant lots to formal rooftop farming operations.
Urban farms serve diverse roles: a community-based job-training program, a farm-to-fork business serving local restaurants, and a productive use for rooftops within development projects. Its intersection with community redevelopment shows up as a vertical farm masking a parking garage or an indoor hydroponic farm reusing a vacant, big box store.
Join us at the rooftop garden on McCormick Place's parking garage to glimpse into the role urban farming plays in Chicago's economic and community development. Our expert speakers will highlight urban farms, their development, challenges, and ways to work toward a more fruitful urban farming economy in Chicago.
Please Note: Masks are required for all participants throughout the indoor portion of the event.
Format
Attendees are invited to bring their own lunch to the program.
11:30 a.m. – Attendees gather and network
12:00-1:30 p.m. – Program & Tour
1:30 p.m. – Event Ends
All member registrants will be checked for paid 2021 LAI dues. If you would like to register for this event but have not paid 2021 dues, please visit LAI's website.
This is a terrific opportunity to BRING A GUEST so they can discover the great value of LAI Ely Chapter membership. **Remember, the chapter now requires prospective members to attend at least two LAI events, including at least one Ely Chapter event, to be eligible for nomination.
Please note that refunds are not available for cancellations.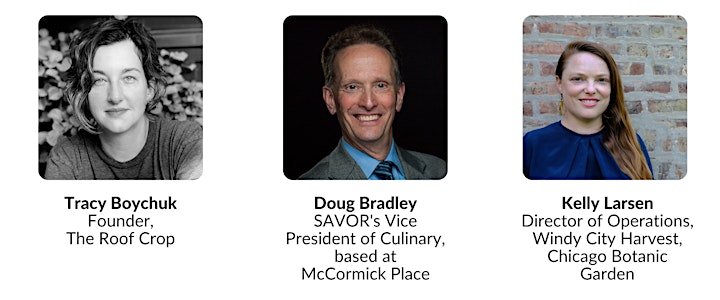 SPEAKERS DETAILS
Tracy Boychuk started her career in the art department at Sony Music in New York. From there she served as Design Director for MTV's Off-Air Creative Department and next as Co-Creative at RCA Records, After her years in the music industry, Tracy left to become a founding partner for NYC award-winning design firm, Trooper. During her tenure in New York City, Tracy taught undergraduate courses in design and portfolio development at the School of Visual Arts for fifteen years. She currently collaborates and consults on all things branding and marketing through Runner Collective with clients from New York to Los Angeles, Canada to the UK along with her current focus managing the series of urban roof top farms under The Roof Crop stewardship.
The Roof Crop farms, designs produces, and develops experiences that engage clients in a shared mission of sustainability. Launched in 2015 with the installation of its first commercial farm in West Town, The Roof Crop now farms thirteen properties across Chicago, with another acre of green space due to come online by the end of 2022. Their team strives to collaborate with skilled partners and across multiple disciplines to create green spaces that tell a story and produce income.
Originally from Canada, founder Tracy has taken the deep respect for growing food from her farm-raised father and adapted it to growing everything from strawberries to tomatoes on roofs in Chicago. The systems are open-air and strive to use everything grown from weed to flower. Most food is sold to Chicago's most remarkable chefs; some is used for resident programming, and some is now finding its way into communities in need. Through The Roof Crop, Tracy strives to create landscapes that feed body, mind and soul.
Doug Bradley has created a model for public venue food service operations globally, emphasizing biodiversity in McCormick's Rooftop Garden, increasing waste diversion, and maximizing integration into local communities. Doug has more than 20 years developing operationally effective sustainability programs for large foodservice venues and mega-events. These include conference centers, sports venues, and health care systems in the U.S., China, and the United Kingdom. In his role with ARAMARK, he led the culinary and sustainability programs for both the London 2012 Games and the Cleveland Clinic. Following his commitment to sustainable food service and sustainability, Doug developed the Planet Evergreen Sustainable Cuisine Program for ARAMARK
Doug's background in culinary arts and sustainability programs, enabled him to recognize the urban gardening opportunity that the West Building Rooftop Garden represents. Doug has overseen an increase in the size of the McCormick Rooftop Farm, shifted the focus of the plants that are grown to include 16 Slow Food USA heirloom Arc of Taste vegetable varieties, added a unique heirloom cherry tree orchard, and implemented a micro-green program.
Kelly Larsen joined the Windy City Harvest team in 2008 as a Windy City Harvest Corps crew leader. She currently oversees eight acres of production and operations at 12 farm sites, as well as the Windy City Harvest Corps transitional jobs and Farmer Incubator programs. She has a degree in environmental studies from Northeastern Illinois University in Chicago and is a certified Roots of Success Environmental Literacy instructor and TreeKeeper. Larsen is a produce safety alliance and GAPS-certified grower, and ServSafe manager. She is a member of the Chicago Jobs Council, National Incubator Farmer Training Initiative, and National Food Hub Network. Previously, Larsen worked with The Talking Farm and Gethsemane Garden Center. Larsen is honored to be a part of creating access to sustainable food-system employment and seeing the amazing work Windy City Harvest graduates continue to do after completing their programs.
McCormick Place Rooftop Farm is a half-acre garden atop McCormick Place which was created as a part of the West Building's LEED certification process and grew to become integral to their sustainable operations goals. Home to nearly 100 different varieties of vegetables, fruits, native prairie plants and edible flowers, plus 20,000 honeybees and butterflies. The harvest is used in McCormick Place restaurants via SAVOR, McCormick's exclusive food service provider.
Windy City Harvest runs the rooftop farm which is a training site for their urban agriculture program employing justice-involved individuals and veterans, offering them hands on technical training and support for finding full time, long-term employment. The McCormick Place farm provides an employment opportunity for graduates of their apprenticeship program.