Date/Time
Date(s) - August 21, 2019
11:30 am - 1:30 pm
Download iCal

Location
Maggiano's
Shopping Mall Retrofits
Please join us Wednesday, August 21 as we continue our 2019 programming Big Shoulders, Big Ideas with a panel of industry experts discussing retrofits of America's shopping malls. Highlights include two local examples at Webster Place in Lincoln Park's thriving retail corridor and Matteson's Lincoln Mall, which has been virtually empty for two years. Event registration ends August 15.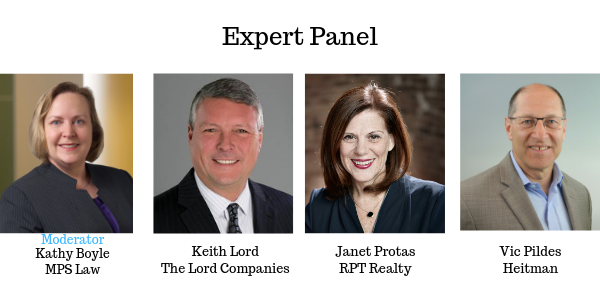 This is a terrific opportunity to BRING A GUEST so they can make connections and discover the great value of LAI Ely Chapter membership. **Remember, the chapter now requires prospective members to attend two events at minimum to be eligible for induction.
About the Panelists:
(Moderator) Kathleen (Kathy) Boyle is a partner in the Chicago office of Meltzer, Purtill & Stelle LLC, a real estate-oriented boutique law firm. She focuses her practice on the development, redevelopment and leasing of retail, mixed use, office, warehouse and industrial projects on behalf of developers, landlords and tenants. Her experience includes the creation and amendment of operating and restrictions agreements, adaptive re-use, urban infill, and big box, restaurant, entertainment, outparcel, ground and build-to-suit leasing. Kathy worked as an in-house real estate counsel for over eleven years both on the developer/landlord side for a national shopping center REIT, now known as Brookfield Retail, and on the tenant side for an international tire sales and auto service retailer. She received her J.D. from the University of Michigan Law School and is an adjunct professor in the LLM program in real estate law at the John Marshall Law in School, Chicago, Illinois.
Keith Lord has served, since 1986, as President and General Partner of The Lord Companies, L.L.C., a diversified real estate corporation with consulting, brokerage and development divisions specializing in urban infill and adaptive re-use brokerage, design, and development. The Companies' clients range from developers, Fortune 500 corporations, banks, law firms, private individuals, and the City of Chicago. In 2004, Keith Lord, along with Scott Fithian, were named the City of Chicago's "Top Retail Leasing Owner's Representation Brokers" by the Commercial Forum Awards. In 2012, he received the Top Producer Gold Sales Award by Chicago Commercial Forum for investment sales. Mr. Lord has been the President of the Retail Brokers Network which has over 65 independent commercial retail real estate offices, including 5 offices in Canada and Mexico. From 1984 to 1985, Mr. Lord attended the Kellogg Graduate School of Management at Northwestern University in Chicago, Illinois, where he received Masters Degrees in both Marketing and Finance. Mr. Lord is heavily involved in the Chicago non-profit sector and has served on over 15 boards and been elected President of 8 organizations. Mr. Lord lives in Chicago on the north side of the City.
Janet Protas has over 25 years of institutional and start-up/entrepreneurial real estate experience with a focus on mixed-use urban development in high-barrier-to-entry markets. She has been involved in the development, re-development, repositioning and/or asset management of over twenty million square feet, valued at over $4 billion and has worked on some of the country's most high profile and distinguished assets as well as niche projects across the US primarily in the multi-family, retail and office asset classes. Ms. Protas currently leads development efforts for RPT Realty (formerly Ramco Property Trust) in the Midwest and Colorado. As such, she is tasked with identifying and executing mixed-use development and densification opportunities within RPT's 29-asset Midwest/CO retail portfolio. Prior to joining RPT, Ms. Protas oversaw urban real estate development activities for a New York-based investment company, preceded by eight years developing multi-family projects in Chicago. Ms. Protas' most high-profile work was overseeing the redevelopment of the retail component of the World Trade Center in Manhattan, where she is credited with putting in place and executing the plan that transformed 300,000 square feet of subterranean retail space from convenience to destination. Ms. Protas' background also includes public sector experience with the City of Dallas, TX, where she led a public-private partnership that revamped the City's planning and permitting processes. Ms. Protas holds a Master of Business Administration degree from The Wharton School of the University of Pennsylvania and an undergraduate degree from the University of Texas. Ms. Protas is an active member of the Urban Land Institute, where she is past-Chair of the national Urban Revitalization Council and currently co-chairs a local Chicago product council.
Vic Pildes is Senior Vice President and Development Specialist in Heitman's North American Portfolio & Asset Management group. His responsibilities include overseeing strategy, planning, and execution of development opportunities, including re-positioning to preserve asset competitiveness. A licensed architect, he has been involved in major commercial and residential developments for more than 30 years. Before joining Heitman, Vic served as a senior development executive with several large real estate organizations including JMB / Urban Retail Properties Company, Westfield, and Washington Prime Group. Among the project teams he has helped lead were those responsible for the development of Copley Place in Boston, the Ronald Reagan Building and International Trade Center in Washington, DC, Roosevelt Collection in Chicago's South Loop, and Scottsdale Quarter in Scottsdale, Arizona. Vic received a BA in Urban Geography with honors and a Master of Architecture with honors from the University of Michigan. He is a long term member of the International Council of Shopping Centers.
***Please bring your Eventbrite Receipt to the Luncheon***
Please note that refunds are not available for cancellations.